Twitter influencer sentiment around crypto QoQ up by 60% since Nov 2022
Click To Tweet
In January 2023, cryptocurrencies rallied for the first time since June 2022, taking positive cues from the rising expectations of cooling inflation. Meanwhile, Twitter influencers expect 2023 as a promising year for the bitcoin rally as the currency bounced back from its 2022 low. In this context, Twitter influencer sentiments recorded 60% gain over last three months (November 2022 – January 2023), reveals the Social Media Analytics Platform of GlobalData, a leading data and analytics company.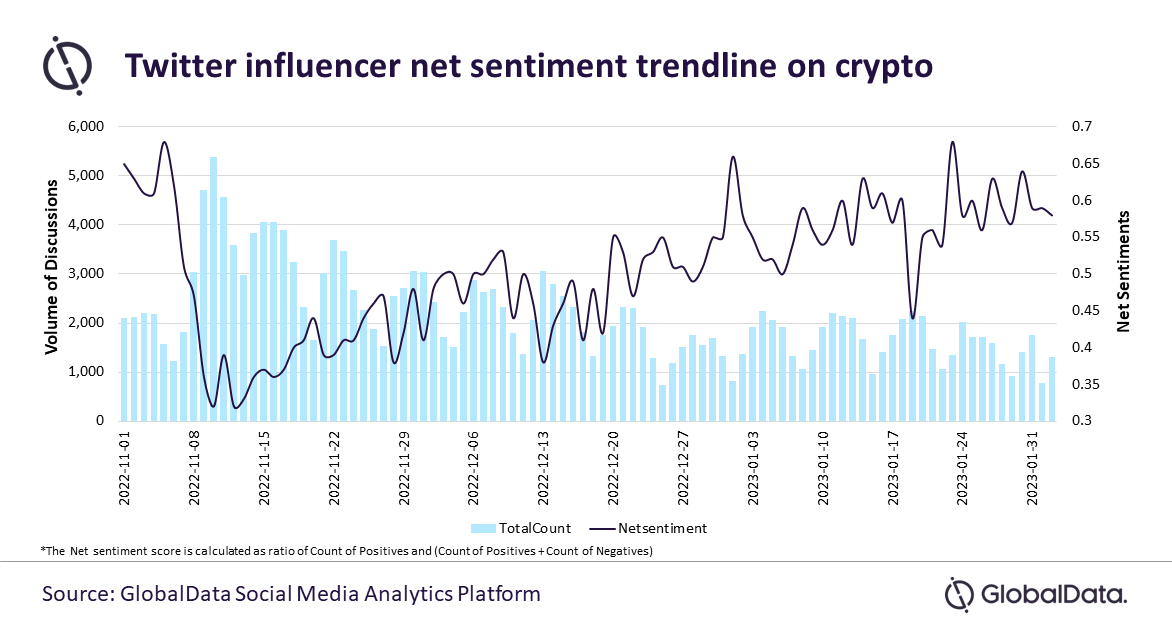 The bucket of cryptos imploded in 2022 due to a massive sell-off due to global macroeconomic factors such as fear of recession to stay away from riskier assets. Investors' sentiments were also hammered by the scams and frauds related to cryptos, which all contributed to the collapse of top crypto exchanges, such as FTX in November 2022.
Smitarani Tripathy, Social Media Analyst at GlobalData, comments: "Twitter influencer net sentiments around crypto recovered from the low of 0.32 in November 2022 and reached a new high of 0.68 in the third week of January 2023, as leading crypto token 'bitcoin' broken the level of $23,000. Meanwhile, Goldman Sachs also stated that bitcoin is the best-performing asset in the world this year, which added positive cues in the crypto market."
Cryptos continue to surge following Fed's recent step in rising the interest rate at a slower pace in the February FOMC meeting. Most of the Twitter influencers expect the upside trend in cryptos to continue in 2023, as they see the fundamentals factors to drive the market high in near term.
Below are a few popular influencer Tweets captured by GlobalData's Social Media Analytics Platform:
Ivan Liljeqvist , CEO of Moralis.io:
Alvin Foo, Co-Founder of Securo Finance:
Jeff Ross, CEO Vailshire Capital Management LLC:
Ran Neuner, Founder of Crypto Banter:
Changpeng Zhao, CEO of Binance: