Since the beginning of 2022, the cryptocurrency market has been impacted by macro factors such as increasing inflation, which led investors to a massive sell-off and stay away from riskier assets.
In a recent incident, FTX, one of the world's biggest crypto exchanges, has filed for Chapter 11 bankruptcy protection in the US. Against this backdrop, social media sentiment around 'cryptocurrency' has plunged by almost 70% and touched the year's lowest in November 2022, reveals the Social Media Analytics Platform of GlobalData, a leading data and analytics company.
Reportedly, scams and frauds related to cryptocurrency have skyrocketed over the year across the top exchanges. Subsequently, social media discussions around 'cryptocurrency' also fell by 76% from January to November.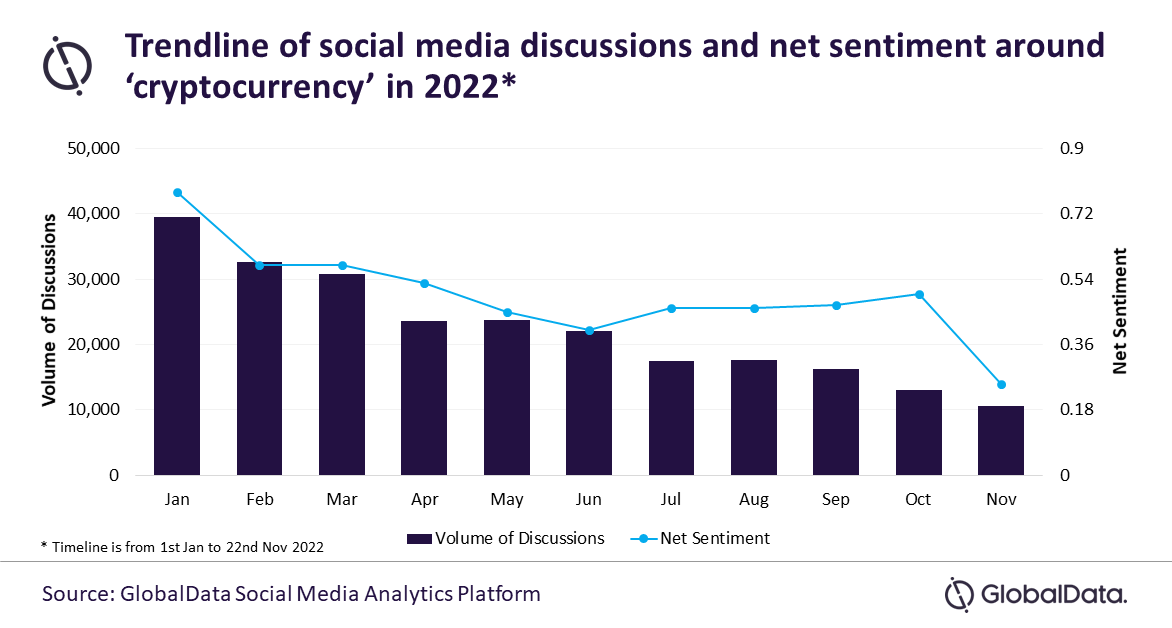 Smitarani Tripathy, Social Media Analyst at GlobalData, comments: "Social media net sentiments have fallen by 70% in 2022, from January to November, as the multi-trillion dollar crypto bubble, including top trading cryptos such as Bitcoin and Ethereum, is imploding. Most of the Twitter influencers expect the crypto market to continue the downward trend and a few expect it to even collapse completely."
Below are a few popular influencer opinions captured by the GlobalData's Social Media Analytics Platform:
1. Ian Brown, Visiting Professor at CTS-FGV opined all cryptocurrencies are going to perish:
"Also… cryptocurrencies are "going to die. There's a limited amount of real money left… and as that money gets pulled out there will be less and less…speculative activity. No one's coming in with fresh capital, and Ponzi schemes without new suckers disappear."
2. Peter Schiff, Chief Economist said that the entire rally of crypto was a fraud and Bitcoin mania is over:
"A year ago #Bitcoin hit $69,000. One of the main reason for the spectacular rally was all the leverage that funded unprecedented #crypto advertising and speculative buying. The #FTX bankruptcy proves the entire rally was a fraud. It will never be repeated. Bitcoin mania is over."
3. Paul Graham, Computer Scientist is concerned that the economy of cryptocurrency will go through systematic risk:
"A person I have known for more than ten years, who I consider trustworthy, is convinced the cryptocurrency economy will shortly experience a systemic risk. I don't know anything concrete, but if I were exposed, I would be concerned."
4. Aaron Day, CEO of Salu Corp says the value of Ethereum is going to be zero:
"For this, and other reasons, #ethereum is going to 0. Centralized #cryptocurrency that is also a likely illegal security & subject to a infinite rugpull train is not the future of decentralized finance. Apparently few understand."
5. Matt Stoller, Research Director at AELP, says to ban all cryptocurrencies as he saws all the schemes as fraud:
"No, not crypto technology, which is largely a means of doing things centralized databases can do better. Virtually every cryptocurrency scheme is a fraud. It all should be banned."
6. Andy Oram, Editorial Board Member at Linux Professional Institute, says Crypto is full of all possible risks:
"#Cryptocurrency is exciting to follow because it's constantly opening up possibilities: the possibility that your money will be stolen in a cyberattack, that tax authorities will seize your assets, the possibility of losing everything in a crash or to some masquerader…"
*As on 22 November 2022
Attend Fintech22 at Sydney Masonic Centre, Sydney on 30 Nov – 1 Dec 2022 to network, learn and grow with the fintech community